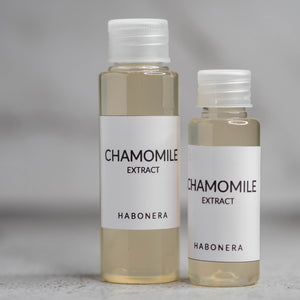 Chamomile Extract is used as an anti-inflammatory and also as a mild sedative. Use it in sleepy-time cream, night time baths or pulse point formulas.

In skincare, Chamomile Extract helps to reduce redness and is soothing on inflamed skin. Suitable for Normal, Mature, Dry, Oily, Sensitive and problem skin types.

Suggested usage rates: 1 - 5% in liquid soap, cremes, hair products, Melt and Pour Soap and Cold Processed Soap. If combining extracts, ensure combined total does not exceed 5%.
Ingredients: SHAKE WELL BEFORE USE Purified Water, Alcohol, Chamomilla Recutita Flower Extract, Xanthan Gum, Potassium Sorbate, Citric Acid

Botanical name: Matricaria recutita

Common name: Chamomile

Name: Chamomile Liquid Herbal Extract

Applications: Floral waters, linen waters, body milk, body lotions, body custards, serums, hair products, face and eye creams (oil in water emulsions for the body & face).

Suitable for: Water based products.

Usage Guide: 0.5-1%.