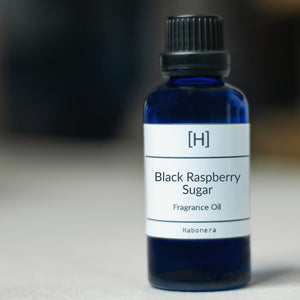 Habonera is proud to bring you artisan fragrance oils in Australia.

Habonera Fragrance Oils are manufactured in Australia and adhere to Research Institute for Fragrance Materials (RIFM) and International Fragrance Association (IFRA) standards for safety and purity.

None of our fragrances are tested on animals and are completely vegan/cruelty-free. They are also phthalate-free, non-toxic and do not contain palm oil.
A deliciously sweet fragrance of warm vanilla sugar and juicy sun ripened black raspberries.
Top Notes: Raspberry, Blueberry
Middle Notes: Geranium, Rose
Base Notes: Vanilla Sugar, Musk
PROPERTIES
CANDLE USE
YES
max usage: 10%
BODY USE
YES
max usage: 5%
LIQUID SOAP USE
YES
max usage: 1%
LOTION USE
YES
max usage: 0.5%
DIFFUSER USE
YES
max usage: 25%
ROOM SPRAY USE
YES
max usage: 1%
FLASHPOINT
63ᵒC
CONTAINS VANILLIN
NO