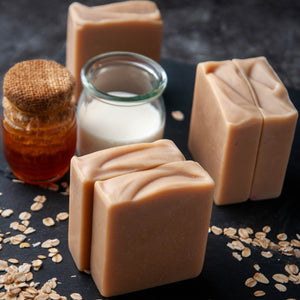 Our Milk Honey & Oats Soap is bubbly bliss! A truly mild cleansing bar - great for sensitive skin. More than just a cleanser, this soap gently exfoliates and calms the skin with ground oats, honey and milk.
Oatmeal moisturizes, protects, exfoliates, and cleanses your skin. It also helps boost collagen production, improves your skin complexion, and reduces skin inflammation.
Honey is a natural humectant and moisturizer. It draws moisture deep into the skin, making it useful for dry skin conditions and anti-aging.
The lactic acid in milk pulls out the dirt by deep cleansing clogged pores and removing acne-causing bacteria called microbes present on your skin surface.
Scented with a perfect blend of oatmeal, milk, and honey - mellow, soothing, with just a hint of sweetness - the comfort food of fragrance oils.