About Us
Habonera started in 2016 as an answer to the skin needs of a family. It offers natural hand-crafted soaps for various skin types and conditions, using the traditional cold-process method which creates bio-degradable soaps with zero by-products.
Envisioning a dynamic, responsible and ethical community of soap makers in the Philippines, Habonera started opening regular Cold-Process Soap Making Workshops last October 2017 for those who want to learn the safe soaping practices and basic fundamentals to create recipes of his/her own. Habonera Soap Making Workshops aim to empower individuals to take pro-active control of their skin care and create natural handmade soaps that are gentle to the skin and kind to the earth.
Habonera also offers high quality raw materials for soap making to provide customers access to imported fragrance oils and herbs from Australia, as well as local produce of farmers in the Philippines.
Right now, Habonera is simply enjoying the journey, with constant process of learning, improving and refining, in order to make as little impact on nature and health as possible.
Check out our online course
on sale till stocks last!!!
NEW! Fragrance Oil Sampler Kit
You can now buy our Habonera Fragrance Oils in 3ML sampler bottles. Choose 6 of our premium fragrances for only P230.00!
Buy Now
Customize & design your soap
Habonera Classic
One (1) single-colored soap loaf is approximately 1.4kg, cut into 10 bars.
Choose your fragrance, color and additive.
Customize Now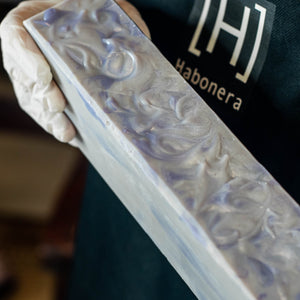 Habonera Premium
One (1) soap loaf that can have up to 2 colors, carefully designed for a more bespoke appeal.
Each soap loaf is approximately 1.4kg, cut into 10 bars. 
Choose your fragrance, two colors and additive.
Customize Now
In this video, you'll see how sometimes things just don't go as planned. But don't panic! Just take a deep breath, keep going and hope that the soap will just surprise you with how it turns out in the end. It's my first soap tutorial so please be kind and bear with me. ❤️ .
Hope you like this one.😍